Well, I had to share two of my favorite pics: Me with my Michael Jackson doll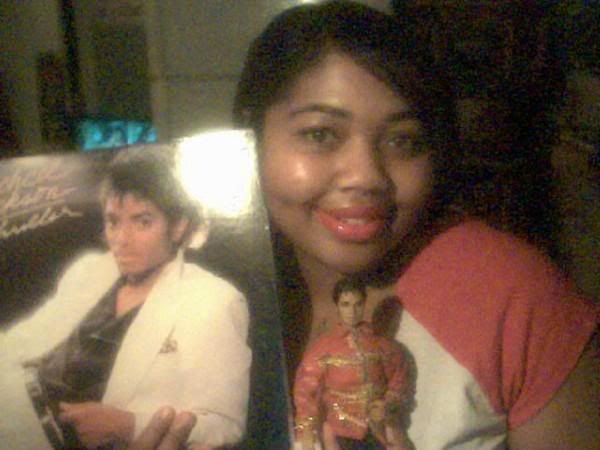 and me with my Lester Doll.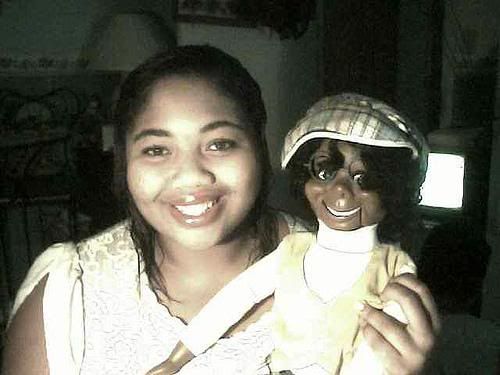 I took that pic of myself and my Michael Jackson doll for the Michael Jackson kiss project that another fan was working on. He was making a collage of female fans blowing kisses with MJ pics and other memorabilia. I have one of me kissing, but I also have pics of me just smiling like in the pic above. I took that pic in 2006 or maybe 2007. It could have been 2004 or 2005. I got my Michael Jackson doll for Christmas of 1985. I was 5 years old and I loved that doll!!!!!!!!!!!!! I was so elated when I unwrapped it and saw that it was a Michael Jackson doll. I loved MJ so much when I was a little girl that I was jealous of the little girl Katie in the Moonwalker movie,lol. I wondered what was so special about her that he put her in his movie,lol. I was also jealous of Tatiana Y Thumbtzen in The Way You Make Me Feel video and Ola Ray in Thriller,lol. Coolest thing ever: Godchaux's department store in the 1980's. In their toy section, they had celebrity dolls that weren't meant for children to play with. I loved to just look at them. The best thing they had was the Thriller film projector and the Thriller 3D viewmaster!
From ages 2 - 4 I had a crush on Willie Tyler's vent figure, Lester. I was under the age of 5 and he looked like he was sitting on his dad's lap like I used to sit on my dad's lap,lol. I super wanted a Lester doll. Every time I would go in Children's Palace (the best toy store EVER), I would walk by the Ventriloquist doll section. I took that pic of me with my Lester doll back in 2001. I just wanted one with Lester, LOL. I even wrote Willie Tyler and he wrote me back!!!!!!!!!!!!!!!!!!!!!! He was soooo nice!!!!!!
Neither of my dolls are worth any money, because they were thoroughly loved (played with,lol) when I was a little girl. I'm just glad that they are still photogenic.